My Account
streaming
Dedicated Servers


streaming dedicated servers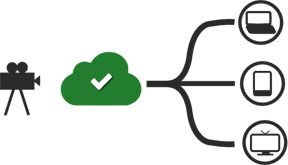 Need a Dedicated Server for Streaming?
Business large or small, dedicated servers are a prime need today. Almost everything in the world is going digital. Don't you believe it's crucial to secure data that plays a pivotal role in business? When planning to host a commercial website, some kind of a mail server or an exclusive web application, making the right pick plays a big role. The most popular option though is shared hosting.
Are you aware of the drawback of shared hosting? Well, the name says it all. It implies that resources of a single server are shared and used by different other websites. Obviously you enjoy less control and thwarted security of data! Dedicated servers on the other hand offers you optimum control and an all-exclusive right on the server's resources. No sharing in a nutshell!
This is undeniably a huge advantage! Firstly, you don't have to put up with the troubles of other websites jamming your server's CPU and RAM. Secondly, your server will never wear down or run slow due to bad scripts on a roll in some other website.
Switching to dedicated server hosting is absolutely compulsory if you own a big-hit website that successfully draws in a lot of traffic. It's kind of an upgradation that offers you ample space, optimum performance, top-notch security and complete access to the server's resources. Cherry on the cake – you also get to enjoy a unique IP address that's certainly not the case when opting for shared hosting services.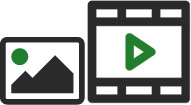 Features
Ultra Responsive Low Latency Network:

Engineered specifically for streaming, our network ensures instantaneous data transmission, guaranteeing smooth and lag-free content delivery every time.

Massive Global Connectivity:

With a network boasting over 5 Tbps capacity, we connect you to every corner of the globe, ensuring your content reaches audiences far and wide.

Dedicated Support Around the Clock:

Experience our world-class 24/7/365 customer service. Day or night, our expert team is always on standby to assist you, ensuring uninterrupted operations.

Seamless Streaming of Rich Media:Optimized to perfection, our servers facilitate continuous streaming of both audio and video content, delivering a crisp and fluid viewer experience.

Peak Performance Meets Exceptional Value:

Our servers represent the gold standard in streaming performance, all while offering unmatched value for your investment. Dive into a realm where superior quality doesn't mean breaking the bank.

Harness the power of lightning-fast port speeds ranging from 1Gbps to 10Gbps, all in full duplex. These premium servers are engineered to manage even the most intensive data workloads effortlessly. Complemented by a generous bandwidth allocation starting at 100TB and extending to an UNMETERED/Unlimited traffic offering, your operations are set to be smooth and uninterrupted. Streaming and CDN capabilities? Absolutely included. This guarantees an impeccable content delivery and top-tier user engagement. Whether it's live-streaming major events or disseminating vast data repositories, trust our servers to not just match, but consistently outpace your requirements.
Server
CPU Speed
Memory
HDD
Port
Bandwidth
Monthly
4/8x 3.4 GHz
32GB DDR3
4x4TB SATA
1 Gbps
200TB
$159
4/8x 3.4 GHz
32GB DDR3
4x4TB SATA
1 Gbps
Unmetered
$209
6/12x 4.0 GHz
64GB DDR4
1x 1.9TB NVMe
1 Gbps
Unmetered
$219
16/32x 2.0 GHz
128GB DDR3
2x 1TB SSD + 4x3TB SATA
1 Gbps
Unmetered
$245
6/12x 4.0 GHz
32GB DDR4
1.92TB NVMe
10 Gbps
100TB
$179
16/32x 2.0 GHz
64GB DDR3
4x3TB SATA
10 Gbps
100TB
$179
16/32x 2.0 GHz
64GB DDR3
960GB SSD
10 Gbps
100TB
$195
24/48x 2.20 GHz
128GB DDR4
4x 480GB SSD
10 Gbps
100TB
$249
Datacenter Info:
Location:

Haarlem, Netherlands

Datacenter:

Evoswitch

Uptime:

99.99%

Test IP:

95.211.210.39
Network and Bandwidth
Server port speed: 1Gbps/10Gbps Dedicated in full duplex. The bandwidth: 100TB/200TB or UNMETERED / Unlimited .
Streaming and CDN are fully supported on our servers.
Test the speed of the network by downloading a speed-test file.
Select a file to Download
About EqServers
EqServers LLC was founded in 2011, We are hosting provider specializing in unmanaged dedicated server in 2 locations :
US | Netherlands .
Eqservers LLC 3422 Old Capitol Trail Suite 28, Wilmington, DE 19808 .
T: 800-889-0085
F: 302-231-2313
Know More
What our client Says